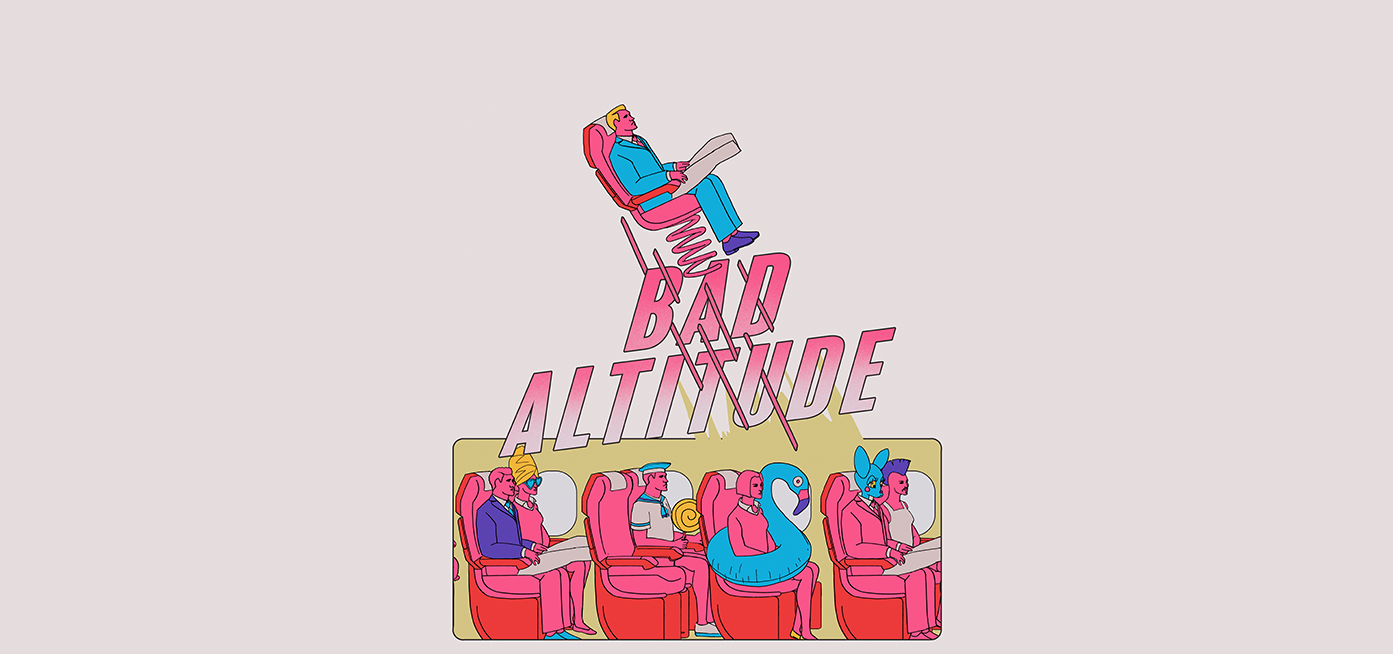 Image credit: Guy J Sanders
Bad Altitude
A puzzle game with a sense of humour, set aboard the world's most underprepared airline. Help flight attendant Rhys as he wrangles over-demanding VIP passengers, escaped anxiety pets and his own luckless love life. Can you be his wingman? Work with your friends to solve puzzles, crack codes and avert death by discount airline.
When you're cruising at 30,000 feet, what could possibly go wrong?
From the team behind National Elf Service (★★★★), Bad Altitude is a cross between an interactive audio drama and an online puzzle game - take your time and enjoy the in-flight entertainment! It's designed for groups of 2-6 people to play together, from wherever they are.
Remember – not all heroes wear capes. Some of them push the drinks trolley.
---
Trailer
---
Critical coverage
"The perfect remedy for these troubling times… Comedy gold. It's a cut above the rest and needs to be played to be believed!" – The Escape Room-er, ★★★★★
"The perfect blend of storytelling and puzzles for an entertaining hour of hilarity. I highly recommend you virtually gather your friends and take a flight to see where the story takes you."
– Borderline Puzzler, ★★★★1/2
"Bad Altitude delivers on all aspects, a wonderfully produced game, with beautiful graphics which are stylistic and quirky, a story that is well written, witty and touching and puzzles which are engaging, yet not too brain-busting." – Brit of an Escape Habit, (no star rating)
"Embraces its ridiculousness from start to finish. The humor never stops! … Over-the-top, wacky, and more importantly, unapologetically gay, fabulous, and all-inclusive. Join the (ahem) club with Ai Air. – Escape Mattster, (no star rating)
---
Our previous puzzle game, National Elf Service, was aimed at a family audience. Bad Altitude isn't - there are no swears, violence or other adult content but the humour and storyline, and the difficultly of the puzzles aren't designed with younger players in mind. We're happy to have younger players board this flight accompanying their adults but please know that Bad Altitude is designed for a 13+ audience.
---
FAQs
What is Bad Altitude?
It's an interactive story puzzle game - so a bit like an online escape room but with a story, and obviously you're not locked in a room (hopefully). You'll help the characters avoid death at 30,000 feet by completing a series of puzzles that they encounter as their journey falls apart.


How long does Bad Altitude normally take?
It depends on how quickly you solve the puzzles, but it usually takes people between 60 and 90 minutes.


How can I play?
You can either: – Play with people in the same physical space as you, with all of you around the same computer. – Play remotely with friends/family who are in different places – you'll all need to be playing at the same time, and you can communicate via the chat box in the game, or you can have a Zoom running (other video call providers also available).


What do I need to play Bad Altitude?
If you're playing on a laptop or desktop computer…
maximise your browser window so that you see the interface as big as possible
if you're going have a video call running simultaneously, you might want to wear headphones or mute yourself during audio segments, so that other team members don't hear your sound second-hand
If you're playing on a tablet…
you'll need to be using Chrome (87+) as your browser
check that your device isn't muted, or it won't play audio, no matter how much you turn the volume up
if you're going have a video call running simultaneously, you might want to wear headphones or mute yourself during audio segments, so that other team members don't hear your sound second-hand
We recommend internet speeds of 12Mbps or higher.
How will I solve the puzzles?
A winning combination of intelligence and teamwork! You'll access all the files and links you need via the game's dashboard as you progress through the story. You will need to solve puzzles to move on to the next phase of the story.


How many people can play at once?
Your link will work for up to 6 devices – we recommend teams of 3-6 but you can play in a smaller group, or a larger group if multiple people gather around the same device, or on your own if your puzzle-cracking skills are up to it!


Do I have to be really good with technology to play?
Absolutely not - Bad Altitude will ask you to use various skills but no tech whizzkid credentials.


What happens if I buy a ticket?
You'll be sent an email with the link to the game. You can forward this email to the other members of your team - you will all use the same link to log in at the time you agree among yourselves.


Do I have to play Bad Altitude at a certain time?
No, whenever works for you.


Does Bad Altitude have a time limit?
No, take all the time you need, and feel free to take breaks for tiny tubes of Pringles and single-serve Chardonnay.


No, you can login just before you play. If you have any problems, let us know - [email protected]
---
Cast and creative team
CREATED BY Dan Barnard, Rachel Briscoe, Joe McAlister & Delme Thomas | ADDITIONAL IDEA DEVELOPMENT Al Primrose | CAST Dan Barnard, Rachel Donovan, Sophie Galustian, Endy Mackay, Delme Thomas, Jamie Zubairi | IMAGE DESIGN Guy J Sanders
Bad Altitude is supported by Broadway's Near Now, using public funding from Arts Council England.