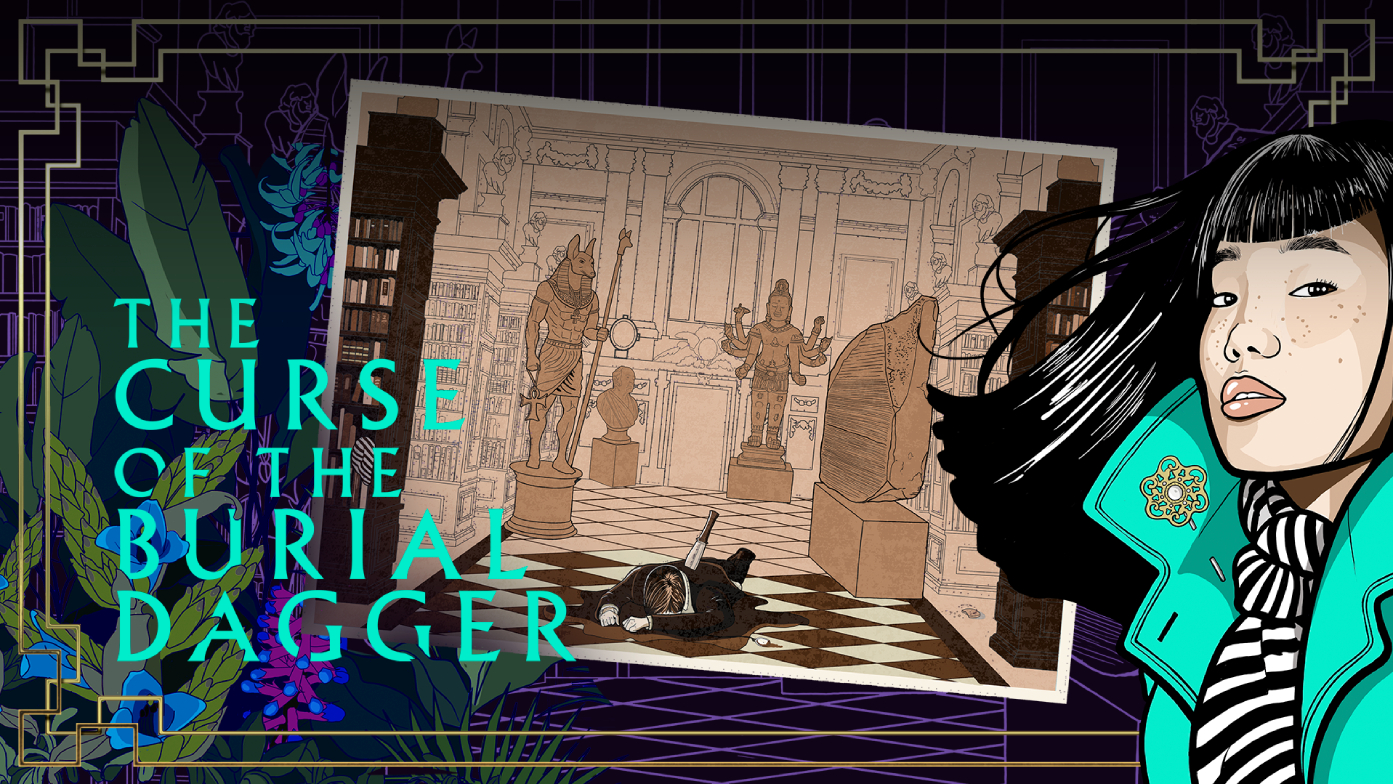 Image credit: Andrew Ahern / Guy Sanders
The Curse of the Burial Dagger
A mansion near Dundee, 1923. Susie Sato finds herself investigating a murder when her great-uncle and host Lord Hamilton is found dead in his private museum, an ancient Egyptian burial dagger protruding from his back. Could it be the curse of the dagger, an object Lord Hamilton was warned not to remove from the tomb? Or could something else have caused his death?
A collaboration between the Leverhulme Research Centre for Forensic Science and the team behind Bad Altitude ('a cut above the rest and needs to be played to be believed!" ★★★★★) and National Elf Service ('An absolute stand out game in the whole play-at-home genre' ★★★★), The Curse of the Burial Dagger is an interactive graphic novel murder mystery, suitable for players aged 10+. Help Susie uncover different types of forensic evidence, solve puzzles and weigh up contrasting hypotheses.
Can you uncover the events leading up to Lord Hamilton's death and deduce how he died… before the curse strikes again?
---
The Curse of the Burial Dagger is supported using public funding by Arts Council England, and funded by The Leverhulme Trust.
---
You can buy one game link (£3.50), which allows up to 6 people to play on different devices. Or -if you are, for example, a teacher- you can buy a bundle of 6 game links (£8.00), each of which can have 6 people playing… so that the whole class can play!
---
Trailer
---
Critical coverage
Winner of 'Best Mystery Game' at the 2021 Bullseye Awards
The Curse of the Burial Dagger is a fantastic experience. Unmissable if you're a fan of murder mysteries, and something a little outside of the box if you're more of a traditional escape room audience. Once again Fast Familiar have nailed it and their new game is perfect for all audiences. – The Escape Room-er, ★★★★★
The graphics were top notch, the narration was immersive (which truly makes it seem like you are watching a murder mystery movie rather than playing a digital game) and as always, there were humour added to the dialogues which is always a signature with this creator. – EscapetheRoom-ers, (no star rating)
It's no surprise to read that the artwork is excellent, and continues Fast Familiar's flair for creating visually compelling experiences. There's solid representation and diversity in the characters, something I noticed after playing National Elf Service. It's great to see that it's a core part of Fast Familiar's storytelling. – Armchair Escapist, (no star rating)
Forensic science is no game – except when it comes to uncovering The Curse Of The Burial Dagger. Scientists at Dundee University's Leverhulme Research Centre have teamed up with storytelling experts Fast Familiar to create a new video game which aims to teach players the critical thinking and evidence skills used to solve real-life mysteries. – The Courier, (no star rating)
---
FAQs
What is The Curse of the Burial Dagger?
It's a murder mystery in the form of an interactive graphic novel. You'll follow Susie as she investigates, helping her solve puzzles and weighing up contrasting hypotheses to figure out who killed Lord Hamilton. It's also a comedy - if you've played any of Fast Familiar's puzzle games, you'll know that we like players to have a good time while exercising their grey matter.
So it's not an escape room?
Not in a strict sense, no - you're not trying to escape from anywhere. There are puzzles to solve but there are also clues embedded in the story that you'll need to look out for. It has elements of interactive fiction too.
And Fast Familiar created the game with actual forensic scientists?
That's right - our friends at the Leverhulme Research Centre for Forensic Science helped us come up with the story and the puzzles. So you might learn something as well as solving a murder!
Is it family-friendly?
Absolutely. We think that players aged 10 and up will like The Curse of the Burial Dagger. As a guide, if your young person likes books like Sharna Jackson's High Rise Mystery series or Robin Stevens' Murder Most Unladylike, then they'll probably like this.
So it's just for young players?
Nope - because The Curse of the Burial Dagger is about solving a murder rather than just a series of puzzles, it's a lot about the discussions your group has - which can be as 'forensic' as you want.
How long does The Curse of the Burial Dagger normally take?
It depends on how quickly you identify your suspect, but probably between 60 and 90 minutes.
How can I play?
You can either:
Play with people in the same physical space as you, with all of you around the same computer.
Play remotely with friends/family who are in different places – you'll all need to be playing at the same time, and you need a WhatsApp group or to have a Zoom running (other video call providers also available).
What do I need to play The Curse of the Burial Dagger?
A computer or tablet device and internet access. You will need to use Chrome as your web browser while on a computer (free to download online), or Safari if you are on a tablet.
How many people can play at once?
Your link will work for up to 6 devices – we recommend teams of 2-5 but you can play in a smaller group, or a larger group if multiple people gather around the same device, or on your own if your murder mystery solving skills are up to it!
Do I have to be really good with technology to play?
Absolutely not - The Curse of the Burial Dagger will ask you to use various skills but no tech whizzkid credentials.
What happens if I buy a ticket?
You'll be sent an email with the link to the game. You can forward this email to the other members of your team - you will all use the same link to log in at the time you agree among yourselves.
Do I have to play The Curse of the Burial Dagger at a certain time?
No, whenever works for you.
Does The Curse of the Burial Dagger have a time limit?
No, take all the time you need.
No, you can login just before you play. If you have any problems, let us know - [email protected]
---
Cast and creative team
WRITTEN BY Dan Barnard, Delme Thomas & Rachel Briscoe | INTERFACE DESIGN by Joe McAlister, with additional support by Clemence Debaig | ILLUSTRATIONS: Andrew Ahern | SOUND DESIGN: Helen Skiera | SCIENTIFIC ADVICE: Heather Doran, Lucina Hackman, Niamh Nic Daeid & Pauline Mack CAST: SUSIE Ami Okumura Jones | SYED Jamie Zubairi | LADY HAMILTON Rachel Donovan | STRUANA Sarah Waddell | HYWEL/ JUDGE Delme Thomas