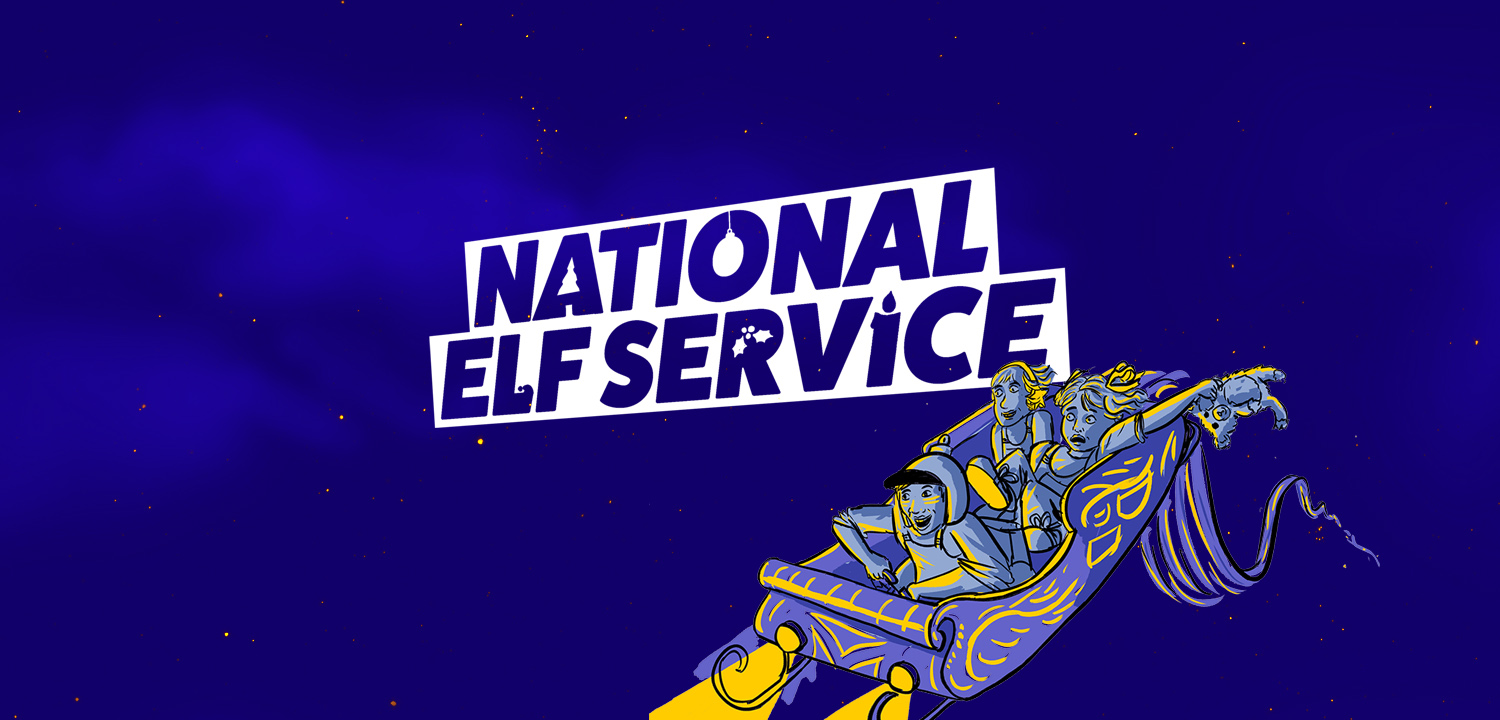 Image credit: Guy J Sanders/ Mr G J Johnson
National Elf Service
National Elf Service is a puzzle game for anyone who feels low low low on the 'ho ho ho'.
2020. A Christmas like no other. Festive spirit is at an all time low. The toy factory has ground to a halt, the sleigh's gathering dust in the garage, and everyone's looking glum. Can you help Holly and the other elves save the day?
Escape reality to a winter wonderland which needs your puzzle-solving, code-cracking skills. Join the Elite Elf Force -Merry, Berry and Sherry- on a mission to make this the most wonderful time of the year.
National Elf Service is a cross between a puzzle game, an online escape room, and an interactive audio book. Whether your team is in the same room or playing together online, there's room on the sleigh for everyone (teams of up to 6, suitable for age 8+ playing with adults).
---
Critical coverage
"Refreshingly different (and beautifully assembled)… I really can't think of a better way to get into the holiday spirit, and save Christmas." – Review the Room, ★★★★
"Fast Familiar have really hit the nail on the head delivering a cohesive, funny and charming story that is accentuated by its puzzles… I was enthralled and amused the whole time." – Brit of an escape habit (no star rating)
"An absolute stand out game in the whole play at home genre! – The Escape Room-er (no star rating)
"The plot was surprisingly captivating, holding my attention throughout… great voice acting coupled with the uniquely styled, lively colored artworks bring the story to life… in one of the most well designed game interfaces I've seen in recent online game history." – The Escape Matt-ster (no star rating)
---
Past Dates
---
Cast and creative team
CREATED BY Dan Barnard, Rachel Briscoe, Joe McAlister & Delme Thomas | ADDITIONAL IDEA DEVELOPMENT Al Primrose | CAST Michael Blair, Clare Dunn, Zachary Hing, Endy Mackay, Delme Thomas | SOUND DESIGN Helen Skiera | ILLUSTRATION Mr G Johnson | PUBLICITY DESIGN Guy J Sanders