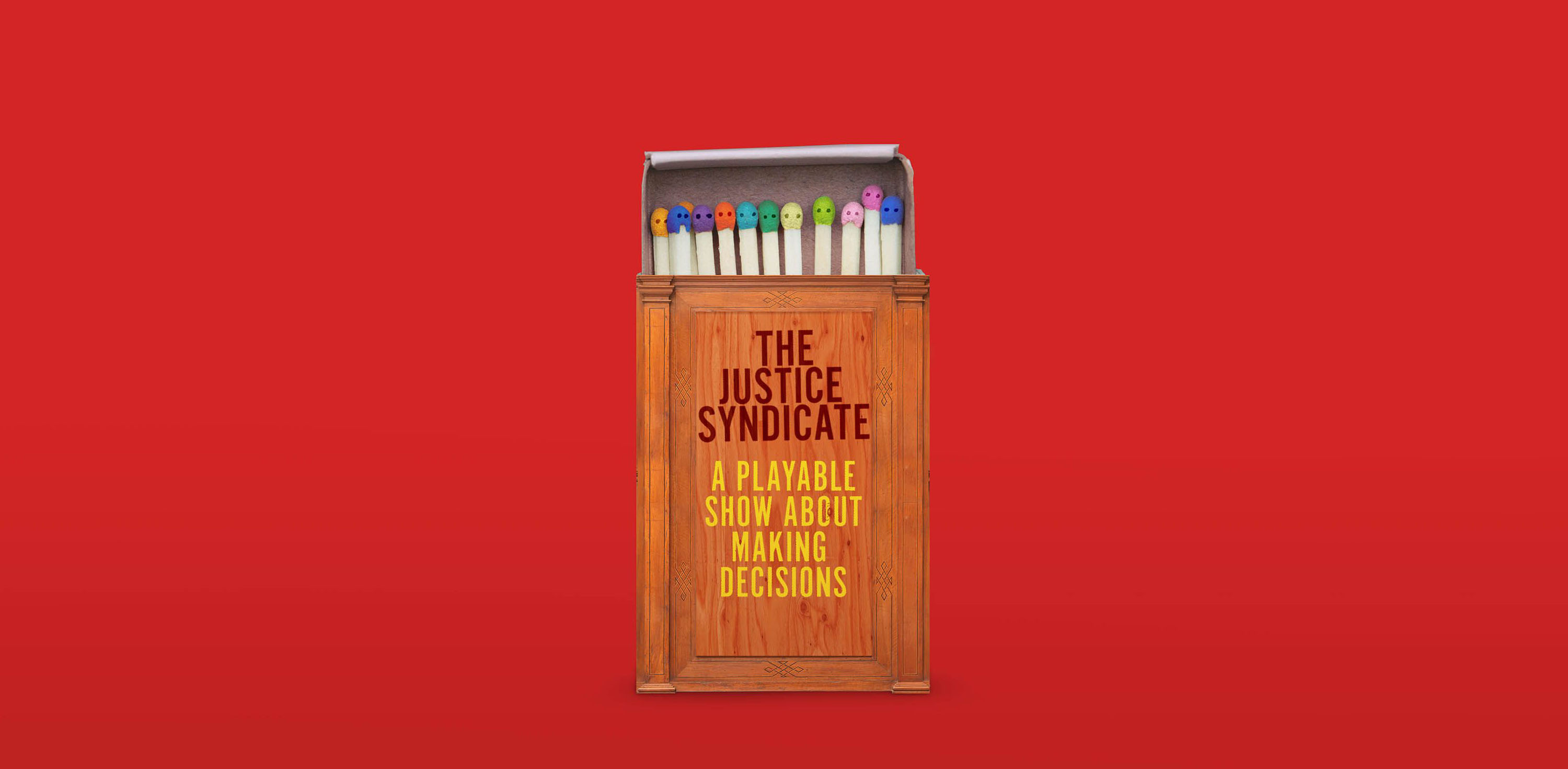 Image credit: Guy J Sanders
The Justice Syndicate
A top surgeon accused of a serious crime. Conviction would mean planned operations will not go ahead – and the evidence is far from conclusive.
The Justice Syndicate is a piece of playable theatre drawing on a jury format. It explores how taken-for-granted assumptions, intuitions and emotions influence decision-making.
Power and privilege; trust and technology; thought and action.
How will you vote?
Content warning: The Justice Syndicate contains both discussion of sexual assault and explicit description of consensual sexual activity.
---
The Justice Syndicate was selected for the Aesthetica Art Prize Anthology: Future Now (100 contemporary artists of 2020) and Lumen Prize (interactive art) longlist.
The Justice Syndicate is supported by Near Now, King's Cultural Institute and London South Bank University.
---
Documentation film
---
Critical coverage
"We all cling to beliefs despite the evidence. Immersive theatre experience The Justice Syndicate aims to show why." – The Observer, no star rating
"Compulsory for anyone who fancies themselves as Henry Fonda in Twelve Angry Men." – The Sunday Times, no star rating
"Enthralling courtroom simulation which cuts to the heart of what it is to be an informed voter." – The Stage, ★★★★★
"An enthralling and highly engaging experience which still plays on the mind." – The Londonist, ★★★★★
"An innovative, incisive, and much-needed scrutiny of our attitudes" [contains spoilers], – Felix Online, ★★★★½
"UK company Fanshen's absorbing piece of interactive theatre" [contains spoilers] – The Irish Times, ★★★★
"a remarkably astute, eye-opening piece of theatre that delicately and profoundly highlights the importance of taking a different approach." – Miro Magazine, ★★★★
"as much a study of the interplay of individual personality and group dynamics as it is an enquiry into social and class prejudice and the inadequacies of the justice system." – No More Work Horse, no star rating
"I'm not sure whether this is a play, event, experiment, or interactive performance. Whichever of these, it doesn't really matter and certainly presents an interesting future for theatre." – The Play's The Thing, no star rating
---
Past dates
7 December 2019 @ Global Heath Film Festival, London
16 October 2019 @ NESTA Collective Intelligence Symposium
17 - 20 September 2019 @ TOMtech, Brighton
13 - 15 September 2019 @ Dublin Fringe
8 - 9 June 2019 @ Sheffield Doc/ Fest
14 April 2019 @ EdSciFest, The Pleasance, Edinburgh
11 - 23 February 2019 @ Battersea Arts Centre, London
9 February 2019 @ The National Justice Museum, Nottingham
17 - 18 November 2018 @ Ludic Rooms' Random String, Coventry
10 - 11 November 2018 @ National Theatre of Scotland and GalinskyWorks' Citizen of Nowhere
---
Cast and creative team
DIRECTION & DRAMATURGY Dan Barnard & Rachel Briscoe | ARTISTIC ASSOCIATE (NEUROSCIENCE) Kris De Meyer | COMPUTATIONAL ARTIST Joe McAlister | PRODUCTION ASSISTANT Ewan Samson | ADDITIONAL IDEA DEVELOPMENT Rebecca Atkinson-Lord, Chris Bone, Tom Chambers, Shireen Mula, Zoe Nicole, Theo Papatheodorou & Delme Thomas | CAST Claire Cordier, Rachel Donovan, Kerry Fitzgerald, Jon Foster, Ezra Ingleson, Oli Ingleson, Georgina Sowerby, Monsay Whitney | FEATURED EXPERTS Jan Bowden, Dr Alex Dymock