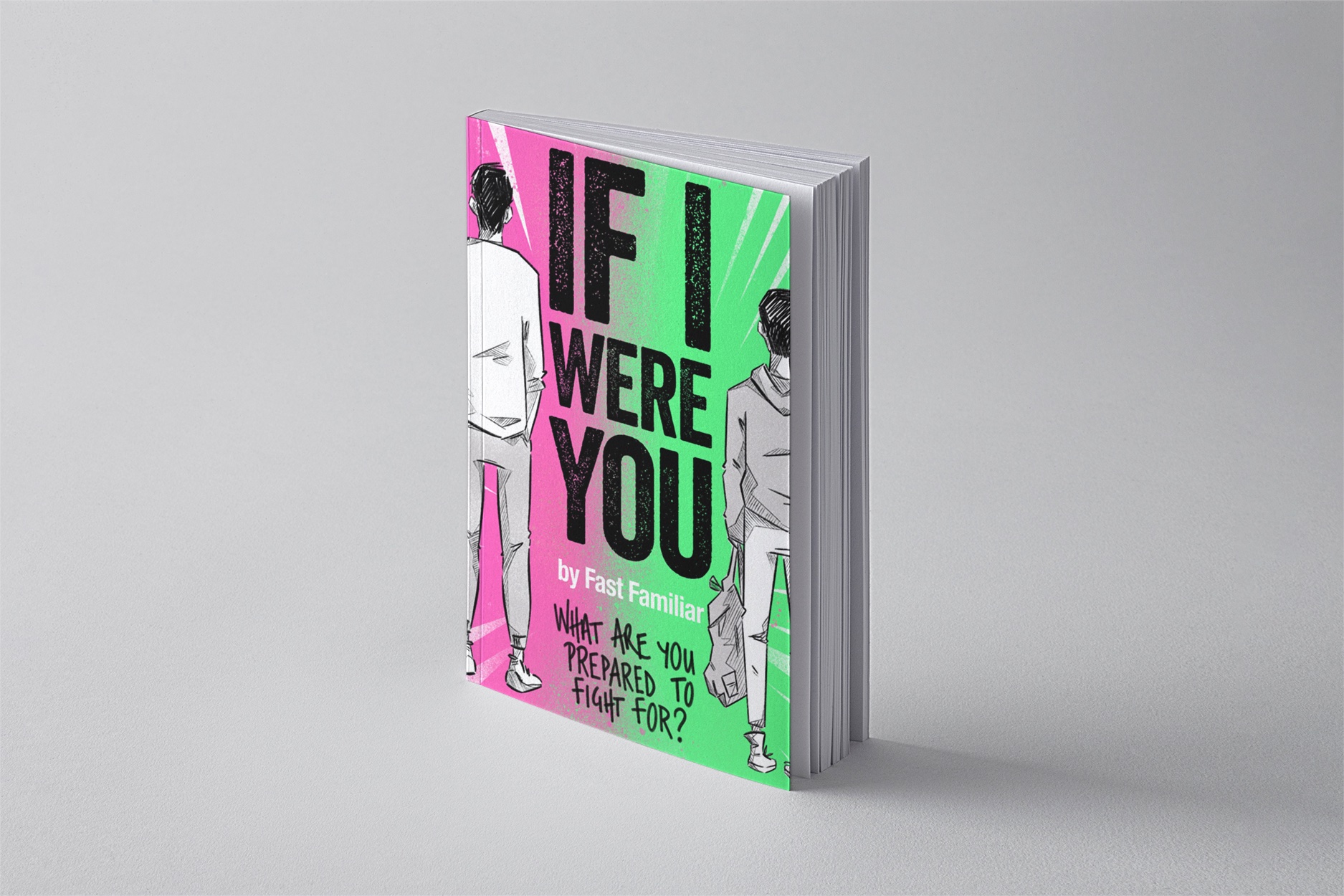 Image credit: Guy Sanders
If I Were You
Story description
If I Were You is a playable digital novel for young adults, set against the backdrop of the climate emergency. It is also an exercise in perspective-taking and encouraging empathy, exploring how humans and machines can work together constructively to solve problems.
In the pilot phase, seven sessions were run in schools with students aged 13–17 in the north-east of England, and one session was run with adults. During the sessions, two groups of people played in different rooms. Following the same story on tablets but from different characters' points of view, they received asymmetric information about situations and third characters via a bespoke control system. Over the course of the session, both groups were prompted with questions about what their own character was thinking or feeling, and how their character thought another person in the story was thinking or feeling. Those questions were built into the experience to simultaneously trigger and measure cognitive and emotional perspective-taking. The groups were also regularly asked to take decisions on what their character should do next. Group decisions were shared between the rooms, affecting the development of the story and creating awareness of the two groups' different points of view.
After the immersive experience, the groups came together for a debrief session with neuroscientist Kris De Meyer, to allow players to find out what had been going on in the other room and to reflect on their decisions in that context. A post debrief survey was conducted as a self-reported measure of perspective-taking.
---
Commissioning notes and aims
If I were you was part of the first cohort of experiments selected by NESTA's Centre for Collective Intelligence Design. The project was developed with Seven Stories (the national centre for children's books) where Fast Familiar worked with a group of young people, the Young Producers, to co-create the storyline.
In all pilot sessions run with students, the groups misidentified how the other character felt. However, when the session was run with adults, they largely got it right. This discrepancy suggests there is a case to be made for strengthening emotional perspective-taking skills among young adults, at a time when these skills may be in critical development.
In the post-debrief survey, 84 per cent of the participants reported that the experiment made them think about taking other people's perspectives. For roughly half of the participants, taking part felt like watching a film or playing a game (implying a sense of doing something for fun and entertainment): an important consideration for engaging this age group. For about one-quarter of participants, it felt like making real-life decisions. More research is needed to verify the impact and longevity of this approach on students' cognitive and emotional perspective-taking, and to further understand how their abilities differ from adults. However, these findings suggest that such novel methods are ripe for exploration by educationalists and cognitive scientists.
For more details on the project, please see our report. In October 2020, we were awarded further funding from Paul Hamlyn Foundation to work with a Youth Board to develop the project and build a mini-curriculum and teaching resources around it.
---
Research done
Publications
NESTA (2020) Combining Crowds and Machines: Experiments in Collective Intelligence Design
---
Cast and creative team
JAMIE Milo Quinton | NAT Zachary Hing | SAFF Sophie Galustian | ANNA Luca Rutherford | STEPHEN Jamie Zubairi | JENNI Rachel Donovan | DI BROPHY Rebecca Atkinson-Lord
WRITER Rachel Briscoe | DIRECTOR Dan Barnard | MEDIA CONTENT & TECH PLATFORM Joe McAlister | ASSOCIATE NEUROSCIENTIST Kris De Meyer | ASSISTANT DIRECTOR Jane Ryan | IMAGE DESIGN Dan Ioannou | YOUNG PRODUCERS Anna, Dalthwaite, Caitlin, Isabella, Rosie & Theo
PROJECT ASSOCIATES (PHASE 2) Amari Harris, Anne Langford, Janisè Sadik | PROJECT ASSOCIATE (PHASE 1) Laura Bridges