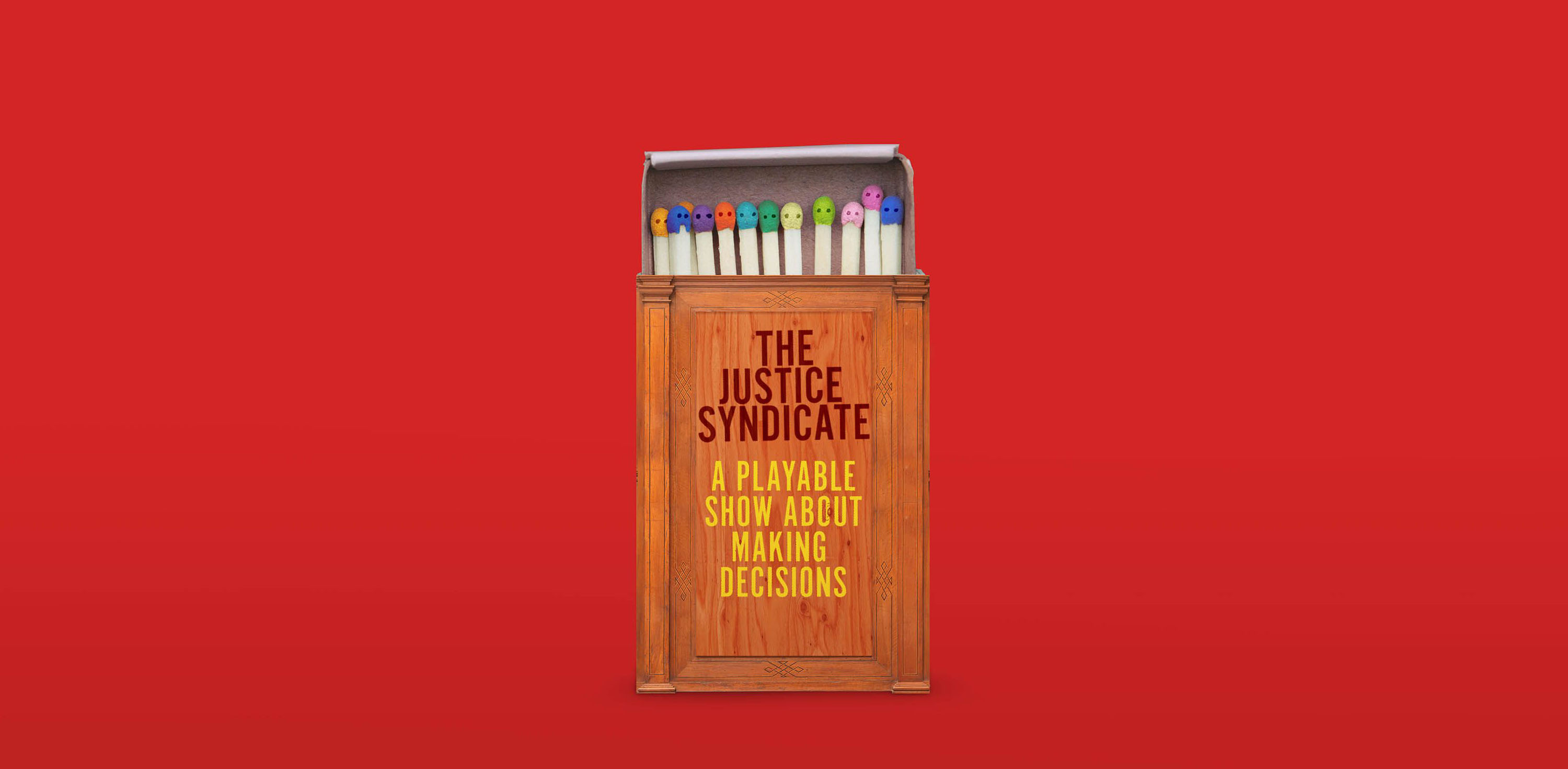 Image credit: Guy J Sanders
The Justice Syndicate
Project description
In The Justice Syndicate, twelve players make up a jury who must review documents and audio and video evidence on iPads to reach a verdict on a case which implicitly explores gender, class and privilege.
Carefully crafted 'testimonies' draw the audience into the scenario while the bespoke control system uses machine learning to subtly differentiate each juror's experience to generate deeper dialogue. It also logs anonymised data on each juror's decision-making process. The piece gives players an embodied experience of group decision making and then allows them to step back and appreciate the cognitive processes underlying their conversations.
---
Commissioning aims
The Justice Syndicate is supported by King's Cultural Institute and London South Bank University.
It is a collaboration with Kris De Meyer, a neuroscientist at King's College London. Kris researches how minds change and how views become entrenched. Conceived in response to our increasingly polarised society, The Justice Syndicate is an interactive medium to explore how taken-for-granted assumptions, intuitions and emotions influence decision-making.
The piece also uses technology to take the level of interactivity and agency of audience members to a new level; in most previous "delegated art" the level of social interaction and meaningful agency has been fairly modest (Harvie, 2013). The Justice Syndicate's synthesis of complex computational processes and social psychology into a transformative group experience pioneers a more audience-focussed future for digital art, in which new affordances can be used to activate diverse and polyphonic perspectives on contemporary societal fracture.
---
Research
Publications
"The Justice Syndicate: how interactive theatre provides a window into jury decision making and the public understanding of law" Dan Barnard & Kris De Meyer (2020) Law and Humanities, 14:2, 212-243
"The Justice Syndicate: using iPads to increase the intensity of participation, conduct agency and encourage flow in live interactive performance" Dan Barnard & Kris De Meyer (2020) International Journal of Performance Arts and Digital Media, 16:1, 68-87
Presentations
"Inviting Interaction: fanSHEN, technology and interactive performance" Dan Barnard
Digital and Interactive Storytelling Lab, University of Westminster, February 2020
"The Justice Syndicate: A case study in using interactive technologies and procedural design to encourage Flow and increase the intensity of interaction in participatory and immersive theatre" Dan Barnard
Zipscene, Moholy Nagy University of Art and Design, Budapest, November 2019
"Bubbles, Bias and Barristers in fanSHEN's The Justice Syndicate: a technologically-enabled live experience that invites us to reflect on our on-line bubbles and decision-making" Dan Barnard
Digital Research in Humanities and the Arts, Watermans London, September 2019
---
Cast and creative team
DIRECTION & DRAMATURGY Dan Barnard & Rachel Briscoe | ARTISTIC ASSOCIATE (NEUROSCIENCE) Kris De Meyer | COMPUTATIONAL ARTIST Joe McAlister | PRODUCTION ASSISTANT Ewan Samson | ADDITIONAL IDEA DEVELOPMENT Rebecca Atkinson-Lord, Chris Bone, Tom Chambers, Shireen Mula, Zoe Nicole, Theo Papatheodorou & Delme Thomas | CAST Claire Cordier, Rachel Donovan, Kerry Fitzgerald, Jon Foster, Ezra Ingleson, Oli Ingleson, Georgina Sowerby, Monsay Whitney | FEATURED EXPERTS Jan Bowden, Dr Alex Dymock